1.866.912.3469
Stemshine™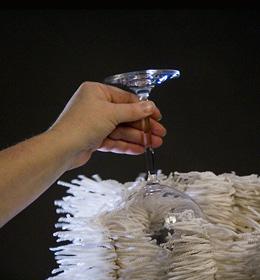 <iframe width="560" height="315" src="http://www.youtube.com/embed/R139y8A0L0o?rel=0" frameborder="0" allowfullscreen></iframe>
GLASS POLISHER
Stemshine - Wine Glass Polishing Machine
Stemware & Glass Polisher
Sister product to the critically acclaimed Silvershine™ cutlery polisher, Stemshine™ is a breakthrough innovation and recipient of the NRA's 2008 Kitchen Innovation award. This easy-to-use appliance dries and gently polishes your valuable stemware delivering a spectacular presentation consistently.
Stemshine™ not only produces great results that save time and effort, it protects your investment in stemware by dramatically reducing the number of broken stems that occur during the polishing process.
HOW IT WORKS
Simple, Effective & Consistent
Stemshine™ takes your stemware from freshly washed to highly polished in just seconds! Simply position wet stemware in contact with the cotton-soft, synthetic drying bristles and allow them to gently polish. THAT'S IT!
Take clean, wet stemware
Hold glass in contact with brushes
Warm airflow dries glass
Rotating brushes polish surface
CONSISTENT QUALITY
A Great Presentation - EVERYTIME!
Polishing stemware is one of the most time consuming, manual jobs in foodservice and let's face it, consistent results are nearly impossible to achieve.
No longer! Stemshine™ allows you to achieve the quality presentation your drink list desrves 100% consistently. With its synthetic drying brushes, spinning as they absorb moisture, Stemshine™ renders your glasses sparkling and without a trace of unsightly spots.
LABOR SAVINGS
Almost Effortless!
Cleaning stems by hand is time-consuming. Stemshine™ lets you save this labor while dramatically improving your glassware presentation. Stems can be shined in as little as 30 seconds regardless of the glass shape. Try the calculator (labor savings button above) to see how much you can save!
SAVE YOUR STEMS!!
Stem-Saver
Your guests expect the best in terms of quality stemware, and with top-end stemware comes beautiful, (but delicate) stems. Here is another area that Stemshine™ ... er, shines.
Breakage associated directly with hand polishing can claim upwards of 50% of your stemware on an annual basis. Stemshine™, with its gentle girating brush-dry system can reduce this to 1% or less*. That's a significant savings!

*actual results may vary
SMALL FORM FACTOR
Brilliantly Compact
Stemshine™ fits into nearly any foodservice environment with ease. Its small-form factor fits just about anywhere in your kitchen or bar and with its 120V power consumption it's truly just "plug-and-play".
BUILD QUALITY
Premium Features Built-in
Simple to use controls
Stainless Steel Consruction throughout
8 Cotton-soft synthetic brushes - easy to keep clean and maintain
Small, table top form-factor
Durable cover to protect brushes when not in use Easy access design for servicing
DOWNLOAD SPECS